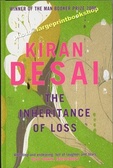 The book: The Inheritance of Loss, by Kiran Desai
The edition: Italian translation by Giuseppina Oneto, as published by Adelphi, softcover, 391 pages with glossary
The story: an isolated house in Darjeeling, a retired judge, his estranged granddaughter, her Nepali tutor/love interest, an Indian Nepali insurrection, and millions of stories cascading from this fulcrum. For a better synopsis, try Goodreads.
My experience with the book & my thoughts: I didn't know what to expect from this, except that I had heard generally good things about it a couple of years ago and that I was curious. Now I can see the charm, it is creatively and exquisitely written, and very well translated. It's just a bit too bleak (in content) for my taste.
What I liked: the narrative technique: millions of different stories like separate threads that are brought together, or like waves originating from the same source and spreading throughout the world.
What I didn't like: the complete absence of even the tiniest grain of "nice": everything is in complete decay, no matter the historical period or the place a given scene is set in. There is absolutely no salvation from decay, not even the tiniest spark of hope.
Links to better understand this book:
Counts as: South Asian Challenge 2012 (wait, what? I never said I intended to participate? Well, I wasn't sure — it's the one I failed last year. But I love South Asian literature, and do plan to read more if they come my way… Maybe I can make it to 3 this year? Fingers crossed!); Back to the Classic Challenge – Classic award winner