As I have mentioned before, I have taken an interest in fairy tales and, as part of a personal reading goal, set off this year to read about them including retellings and nonfiction. Nonfiction took over recently with two (very different) reads on the subject.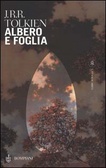 Book #1: Tree and Leaf, by J.R.R. Tolkien
The edition: Italian edition published by Bompiani, 231 pages. It includes the original Tree and Leaf ("On Fairy Stories", "Tree by Niggle" and the poem "Mythopoeia"), plus Smith of Wootton Major and The Homecoming of Beorhtnoth. Translation by Francesco Saba Sardi and Fabrizio Dubosc.
My thoughts: I am completely baffled by Tolkien's nonfiction essay. The whole thing is way too theological for me, and full of scholarly references that I didn't get. But the thing that baffles me is another one: Tolkien never wholly makes up his mind whether to consider fairies as real or not. At the beginning, I thought his references to the fairy folk were a kind of inside joke, but they were not, and I am left wondering. Because to me religion and fairy tales belong separately, being one real an one fantasy, I cannot agree with Tolkien's views — and really wonder how it was possible for him to mix them up. Maybe he did believe in fairies after all.
There is just one thing I save: Smith of Wootton Major is a very nice and tender fairy tale and it made me think of Stardust.
____________________
Book #2: Morphology of the Folk-Tale, by Vladimir Propp
The edition: Italian edition, as published by Einaudi in Piccola Biblioteca (softcover), edited (and translated, I think) by Gian Luigi Bravo, 124 pages. The edition also includes a comment by Claude Levi-Strauss and a reply by Propp, but I didn't read them this time.
My thoughts: I remember studying this theory as part of one of my courses at university, but it didn't leave much of a memory. Reading it with a different attention and a different interest was, indeed interesting. On the other hand, this too was full of references, this time to Russian tales I had never heard before, and a bit too "technical" for my liking.
These two left me wanting. Have you read any good non-fiction about fairy tales? Please share in the comments!