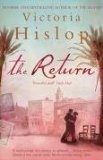 The book: The Return, by Victoria Hislop
The edition: Headline Review paperback, 582 pages, with author's note
The story: when Sonia travels to Granada for the first time, she's just a tourist, here to dance. Then a chance encounter gives her the opportunity to learn about Spain's difficult past: a café owner starts to tell her the story of the Ramirez family, and how the civil war changed their lives forever.
My experience with the book & my thoughts: is it possible to see all of the shortcomings of a book and still like it? Because that's my reaction to The Return. After reading her first, The Island, I kind of knew what to expect, and I'm glad to say that Hislop did a good job in making better what were weaknesses in her first novel — mostly in reaching a better balance between the present-time frame story, and the historical thread. Unfortunately the result is weak in other aspects, especially so in that it reads too much like a history book in telling you about the war (even putting a few characters right in the middle of it all, things are still more told that shown).
So why did it captivate me so much? Hislop is good at making the reader touch and experience "firsthand" what the day-to-day reality of that war was. She is good at recreating the world such as her characters would experience it. And at the same time she knows how to use a freshening touch — in this case it's the dance and music part — to avoid too bleak an effect.
The part with spoilers: aka the unbelievable part: How can I believe that a 16-year-old girl can travel on her own back and forth throughout Spain, crossing fronts, without anything bad ever happening to her? How can I believe that a mother could send her only daughter on a hopeless search through a war-torn country, "because she is in love"? And finally, while I do believe Mercedes would keep the memory of Javier close to her heart (her first love), how can I believe that Javier would even recall Mercedes? She was a good dancer, nothing more to him!
Language & writing: this must be one of the aspect that made me like this book. I like Hislop's prose, her delicate balance of Spanish words, and the way she makes the city real to the reader's eyes.
Links to better understand this book:
Read this if: if you want to know more about the Spanish Civil War, or if you generally appreciate historical novels set in a time of war.