Alternate title: when bad expectations turn a book into better than you'd think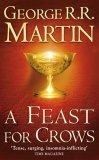 The book: A Feast for Crows, by George R.R. Martin
The edition: Harper Voyager paperback, 852 pages, with Appendix
The story: fourth installment of the Song of Ice and Fire series, not really possible to summarize without spoiling the rest of the series.
My experience with the book & my thoughts: I had heard that this was the worst in the series so far, so I was pleasantly surprised to find it better written and more interesting than the previous ones. Maybe the fact that one character's storyline (Daenerys') is completely dropped helped, as I find her to be extremely boring. All in all it was still a book to suffer through, and I'm in no hurry to get the next one, but it was better than I expected.
What I liked: I have to admit some admiration at how Martin can manage so many characters and storylines: up to book 3 I was convinced he made up the story by and by, not really knowing where it would lead, and I still can't point out what was different here, but something clicked and I can trust the author knows where he's leading us. I also believe he found a better balance with the dress descriptions, which didn't feel as gratuitous and annoying as in the previous volumes.
What I didn't like: I still can't stand the way Martin always goes for the most controversial possible choice, always. I still hate the way he tricks me into reading more, by way of shocking twists and continuous cliffhangers. I still find all the politics endlessly boring. I still don't like the series as a whole and everything it represents.
Counts as: Antonym Challenge (Bonus book); Chunkster Challenge (750+); Semi-Charmed Challenge (a book about which you've heard bad things)