As I have mentioned several times, I have been reading Bleak House by Charles Dickens as part of the readalong organized by Wallace @ Unputdonables.net Well, I am happy to announce that I have finished the book and this week is the last discussion — "happy" not because I didn't like the experience, but because the novel seemed never-ending and I am glad I made it through! For several reasons, I limited my discussion to Wallace's blog, and never made posts about the readalong here (except once, to understand different readings of a specific scene) — so now you'll get a mix-and-match post with my non-organized thoughts about the both the book and the readalong.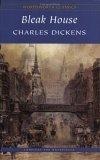 The book: Bleak House, by Charles Dickens
The edition: I read the Project Gutenberg version (downloadable here) — the cover on the left is for illustrative purposes only. In this case, the Project Gutenberg version means the bare text, with no notes or explanatory aids, which I missed sorely. (Page number? I have to check.)
A question for readalongers: have you ever heard about this book: Inside Bleak House by John Sutherland? Do you think it would help?
About the book: for the story, have a look at this synopsis, which makes a good job of telling you about the book without getting stranded in the (too many) plot details nor giving away anything. Also, I'd like to direct you to this infographic on The Guardian, which Hannah found and Wallace shared with us, and according to which this is The Most Dickensian Novel Ever! Wow.
About the readalong: I am sure reading groups and book clubs and readalongs are the best thing ever. This was my first try, and I just loved it. I don't often have the chance to discuss books with someone, much less in so much detail, and it was very good to exchange ideas on even the tiniest bit of information (and to play the guessing game together). I also loved the group, because they brought different views and information, and different help to interpreting. But most of all because they are great people, wonderful readers and bloggers! Thank you all, fellow readalongers, and a special thank you to Wallace for all the work she does for hosting! This is for you:
My experience with the book & my thoughts: let me begin by saying that I'm not a passionate Dickensite (is that a word?), but I have read some of his works before and enjoyed them. I liked a well-built plot and loved the words. Now, here? Here Dickens gets so verbose that I tended to get distracted for paragraphs on end… and when I focused back, I realized I had missed nothing! He talks so much and says the same thing over and over in so many different ways that, by the time all the characters are introduced and the story really starts, we're over halfway into the novel! (And that, for a novel of over 1000 pages, is something.)
I'm sorry I didn't like the novel better. There were good things, characters that were nicely done (Boythorn, and the Bagnets, most of all), and there were the mysteries, and even a detective story… Some of these parts I even enjoyed. But the rest, I'm sure I'd have abandoned this one if it were not for the readalong. And throughout I was so distracted that I continuously came up with improbable totally crazy theories. This, and trying to guess where the story would lead, were the best parts for me 🙂
The part with spoilers and my crazy theories: to my fellow readalongers I already mentioned my idea that Esther could be gay without knowing it. (She would still marry and be happy about it, but deep inside, sh would be in love with Ada.) Now, after finishing the book, I have another one (brace yourselves!): the scene where Mr Jarndyce tells Ada she can go and live with him, and kisses one of her locks? It totally creeps me out. I think there is room for a retelling of this story, a retelling where Jarndyce actually has the hidden goals Richard accuses him of having, and where he (Jarndyce) has some kind of perversion and interest in much younger women (which would explain why Esther still calls him Guardian right through to the end…)
Just let me add: I don't think these interpretations are correct, they are just crazy ideas that popped into my mind. This alternative version would work, but it's not present in the original work.
Language and writing: even with what I wrote above about being too verbose, I liked learning new words, words, words (and more words).
In the author's own words: a few preferred extracts. The first, about analphabetism:
It must be a strange state to be like Jo! To shuffle through the streets, unfamiliar with the shapes, and in utter darkness as to the meaning, of those mysterious symbols, so abundant over the shops, and at the corners of streets, and on the doors, and in the windows! To see people read, and to see people write, and to see the postmen deliver letters, and not to have the least idea of all that language–to be, to every scrap of it, stone blind and dumb!
The Bagnets are the redeeming grace of this book, I just love them and they may be the best married couple I ever saw depicted in a novel:
"George," says Mr. Bagnet. "You know me. It's my old girl that advises. She has the head. But I never own to it before her. Discipline must be maintained. Wait till the greens is off her mind. Then we'll consult. Whatever the old girl says, do–do it!"

[…]

"She's worth her weight in gold," says the trooper.
"In gold?" says Mr. Bagnet. "I'll tell you what. The old girl's weight–is twelve stone six. Would I take that weight–in any metal–for the old girl? No. Why not? Because the old girl's metal is far more precious—than the preciousest metal. And she's ALL metal!"
"You are right, Mat!"
"When she took me–and accepted of the ring–she 'listed under me and the children–heart and head, for life. She's that earnest," says Mr. Bagnet, "and true to her colours–that, touch us with a finger–and she turns out–and stands to her arms. If the old girl fires wide–once in a way–at the call of duty–look over it, George. For she's loyal!"
"Why, bless her, Mat," returns the trooper, "I think the higher of her for it!"
"You are right!" says Mr. Bagnet with the warmest enthusiasm, though without relaxing the rigidity of a single muscle. "Think as high of the old girl–as the rock of Gibraltar–and still you'll be thinking low–of such merits."

[…]

Mr. George produces his present, which is greeted with admiring leapings and clappings by the young family, and with a species of reverential admiration by Mr. Bagnet. "Old girl," says Mr. Bagnet. "Tell him my opinion of it."
"Why, it's a wonder, George!" Mrs. Bagnet exclaims. "It's the beautifullest thing that ever was seen!"
"Good!" says Mr. Bagnet. "My opinion."
"It's so pretty, George," cries Mrs. Bagnet, turning it on all sides and holding it out at arm's length, "that it seems too choice for me."
"Bad!" says Mr. Bagnet. "Not my opinion."
The following one is just so much fun:
"But I trusted to things coming round."
That very popular trust in flat things coming round! Not in their being beaten round, or worked round, but in their "coming" round! As though a lunatic should trust in the world's "coming" triangular!
"I had confident expectations that things would come round and be all square."
And so is this (there actually is a reasoning behind it, but I had to laugh out loud):
"How old ARE you, Phil?" asks the trooper, pausing as he conveys his smoking saucer to his lips.
"I'm something with a eight in it," says Phil. "It can't be eighty. Nor yet eighteen. It's betwixt 'em, somewheres."
Counts as: What's in a name challenge – house; Back to the classics challenge – XIX century