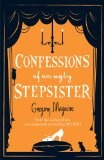 The book: Confessions of an Ugly Stepsister by Gregory Maguire
The edition: Headline Review paperback, 397 pages
The story: a retelling of Cinderella, set in XVII-century, artist-full, tulip-crazed Holland
My experience with the book and my thoughts: I read this as the first fairy-tale retelling in my own plan this year to read about fairy tales and myths, but I was disappointed. This novel is vaguely based on the well-known tale of Cinderella, but it's much more a study in what is beauty. I was expecting a tale and I got almost a philosophical treaty. Which is to say, the book is good, I enjoyed the way the characters are drawn and detailed, I was less keen on the way they changed abruptly, but it is a valid book. Not what I was looking forward to, though.
In the author's own words: about beauty
The Gospels are peopled suddenly and forever by the images that artists deliver for you. We did our work, and God reaped he reward in increased prayer. The true consequence of beauty is devotion.
Counts as: my own interest in fairy-tale retellings