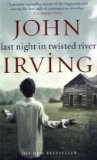 The book: Last Night in Twisted River, by John Irving
The edition: Black Swan paperback, 667 pages, with author's note
The story: wherein we read about a cook and his son, on the run after the 12-year-old accidentally killed a woman mistaking her for a bear, and we follow their story over five decades and two countries as the boy grows up and becomes a writer.
My experience with the book & my thoughts: in the author's note, Irving writes of a woman who told him "even your conversation has plot" and he goes on to state that he represents "the long, plotted novel" and adds: "thats what I do." I mention this because I think it points out exactly why I fell in love with John Irving's writing when I read The Cider House Rules: good storytelling, taking the form of good plot. But Irving is more than that, his storytelling is good because he creates interesting characters, and even the most irrelevant ones come with a full story.
And this is a good thing. Because here, I found the plot to be weaker, the story going round and round… but still I enjoyed the novel so very much. It's not only the touches of "you still have something to discover" that kept me reading. It's the story, or rather, the stories, the details, life jumping out of the page. I think that, by wanting to write about the writer's experience, Irving shifted the focus away from plot, but the book has plenty of other saving graces.
What I liked: characters with a big heart, especially Ketchum.
What I didn't like: the way sex is treated. I don't want to be a prude, but none of the representations of sex here is healthy, and some are positively sick.
In the author's own words: I love the idea of negative autobiography Irving states in the author's note:
What I did not give Danny was my life, which has been largely happy and very lucky. I gave Daniel Bagicalupo the unluckiest life I could imagine. I gave Danny the life I am afraid f having — the life I hope I never have. Maybe that's autobiographical, too — in a deeper, more meaningful, certainly more psychological way. (When you write about what you fear, about what you hope never happens to you or to anyone you love — surely that's a little autobiographical.)
Read this if: if you liked previous works by Irving, you'll probably appreciate this one too.
Counts as: What's in a Name Challenge (Topographical Feature); Antonym Challenge (Last/First); Chunkster Challenge (551-750)