I'm more or less back. (Meaning: after all the traveling of December, I'm still not back home, but will be blogging more often.) Meanwhile, it's the end of the year and everyone else has been publishing stats and projects… I have less than 12 hours to catch up. And I need to jot down my thoughts on the last books I read this year, wrap-up challenges, set down reading goals for 2012, compile yearly stats… not to mention finish one last book, prepare the dinner for New Year's Eve and spend time with my family (who is right now chatting away in the next room).
Let's see how far I'll get.
As a start, here's some very short thoughts about my latest reads.
*****
The book: The Last Cato, by Matilde asensi, in the Italian translation by Andrea Carlo Cappi, 483 pages.
My thoughts: a quick and quite engrossing read, this book falls exactly halfway between The Da Vinci Code and Fucault's Pendulum, as it can boast a conspirational plot while being neither silly as the former, nor too learned as the latter.
Hidden jewel: use of the Divine Comedy as a code for conspirators through the centuries
Pet peeve: a nun who understands nothing of vocation
Counts as: I read this for the Italy in books challenge
*****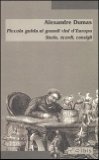 The book: the "Short Guide to Great European Wines" is the chapter about wines from Alexandre Dumas' Great Dictionary of Cuisine. It was published in Italian as a self-standing book, translated by Augusta Scacchi, 105 pages.
My thoughts: rarely have I read something so useless. It seems written without a general plan, as if the author was simply jotting down any thought about wine as it crossed his mind. It may have been better inside a wider work, but I sincerely doubt it.
Hidden (very hidden) jewel: a few nice anecdotes, like the story of the Est! Est! Est!
Pet peeve: machism (the book shows its age)
Counts as: One! Two! Theme! challenge – wine
*****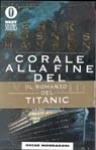 The book: Erik Fosnes Hansen, Psalm at Journey's End, in the Italian translation by Margherita Podestà Heir, 476 pages.
My thoughts: this book is a little jewel, and I am sad that I don't have the time to tell you more about it. It brings together the stories of very different men from different countries and different backgrounds, only put together by the fateful destiny of being aboard the Titanic in its first and last voyage. It's like a majestic fresco, colorful and full of life and facets. It's one of those books that make reading worthwile.
Hidden jewel: music!
Pet peeve: the Titanic is only a pretext to bring the characters together, and quite useless in the general economy of the book, as these are not the real musicians who were onboard, but other, completely invented characters.
Book connections: it mentions the Rubaiyat and features a pianist without a name
*****
The book: The Other Foot of the Mermaid, by Mia Couto, Portuguese original version, 482 pages
My thoughts: this book is very African. Or at least I think it is, because it's so far removed from my own feeling that I could only scrape its surface in terms of understanding. It's strange and different, and while beautiful it remains full of things that are not part of any culture I know.
Hidden jewel: the book tells a major story, interwoven with a second one which comes from manuscripts read by the characters. The publisher used a different paper with a different color and texture and a different typeface for these parts.
Pet peeve: footnotes that explained almost nothing
Counts as: I want more challenge