Alternate title: it's mini-review time!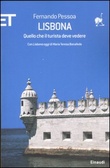 The book: Lisbon – What the Tourist Should See by Fernando Pessoa
The edition: Italian translation by Luca Merlini, 65 pages, as published by Einaudi with an essay on modern-day Lisbon by Maria Teresa Bonafede and pictures by Gianmario Marras, total page count 115
My thoughts:  while it opened my eyes to a couple of things in Lisbon that I had never noticed before, this is nothing more than a dated guidebook. From such an author as Pessoa was, I expected something more, some poetic commentary or some inside knowledge or some social satire. Nothing of the kind.
*****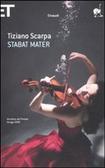 The book: Stabat Mater by Tiziano Scarpa
The edition: Italian (original) edition as published by Einaudi, paperback, 144 pages, with a note by the author
My thoughts: you may have heard me praise Scarpa's love song to Venice in Venice is a Fish, but that was the one and only book I had ever read by him up to now; this one, also a winner of a prestigious Italian award, was supposed to be at least as good. But I'm afraid I cannot say so. It is supposed to be a homage to the musical tradition of Venice, and especially to Vivaldi, but all I could see was the pointless and sometimes horrific meanderings of a man's mind trying to come to terms with the female body. I mean, this is supposed to be the story of a girl on the brink of womanhood, but all the details of her dealing with this change and her body either made me laugh for how improbable they were (think: a girl having a nightmare about water and waking up to find her legs covered in blood from her first period — I have lost count of the male authors believing this is how it happens!) or made me sick with disgust (think: comparing the belly of a woman giving birth and the bubbles exploding in boiling water — and this is just the least example).
*****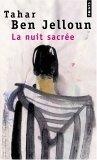 The book: The Sacred Night, by Tahar Ben Jelloun
The edition: French (original) edition, as published by Seuil, Points paperback, 189 pages
My thoughts: I read this for the Africa challenge, and because I hope to visit Morocco, and Ben Jelloun is said to be the author to start from. I'm afraid I have to say this one went right over my head, and I understood nothing of it. I guess it is intended to raise the subject of gender, and of identity, but it does so in a way that is completely different from anything I had read before. It's a kind of magical realism, but full of symbols, and dreamlike details and events that may or may not be symbols, and I can't say I know what most of them stand for. If you have read this and can help me understand, I'd really like to hear from you!
*****
The book: Fables 11 – War and Pieces, by Bill Willingham, Mark Buckingham, Steve Leialoha, Niko Henrichon and Andrew Pepoy
The edition: Vertigo edition, 191 pages
My thoughts: this is the closing book for a cycle of the series, with most threads coming to an end. I already mentioned that I did not like the way this particular story (i.e. the Adversary) was being developed, and this may be the one book I liked the least. It read like some war movie, and that's not a compliment. The series is still great, and I love it to pieces, but I'd have chosen another angle and another story altogether. Now that that is closed, I'm curious to read where the authors will bring us next!