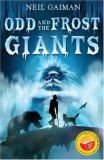 The book: Odd and the Frost Giants, by Neil Gaiman
The edition: Bloomsbury World Book Day edition, 99 pages, illustrated by Mark Buckingham
The story: Odd is "a boy with one good leg, one very bad leg, and a wooden crutch" who runs away from a Viking village after his father's death. But in the woods he meets a fox, a bear and an eagle, three speaking animals that are not what they seem to be. They tell him a strange story and have a mission for him — one involving Gods and Giants and the Sun and the Moon.
My experience with the book & my thoughts: Neil Gaiman is always an absolute guarantee. This is a tiny book but it's crammed with good things: a good story, an engaging and simple narration, a sense of humor, and also nice illustrations. When I saw this available on BookCrossing, I joined in the ring immediately, without even checking out what it was about — and lo and behold, it fits perfectly in my current Norwegian-themed reads, which added to my experience. Perfect read for a wintery night!
Language & writing: what made me wonder is that the book is written in a fairy tale (or children story) style, but it offers much more than that.
Links to better understand this book:
Random thought: I loved the elements that I could connect with the Lord of the Rings (the well of wisdom is like the mirror of Galadriel, and drinking its water has the same effect as drinking Ent-draught), but I guess both tap on older Nordic sources. Which makes me think: the Edda is on my TBR, need to get to that soon.
Read this if: if you like fantasy, fairy tales, anything Gaiman…
Counts as: Travel with books – Norway; What's in a Name – purse