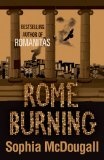 The book: Rome Burning, by Sophia McDougall
The edition: Orion paperback, 584 pages, with maps, character list and a complete history of the alternate Roman empire
The story: in an alternate world where the Roman Empire is still controlling the world nowadays, three years after the events of Romanitas, the Emperor falls ill and his nephew Marcus, at 19, needs to take his place as Caesar and regent. But the times are hard, unstable: strange fires burn out of control, the issue of slavery is still the focus of hard feelings and tensions, and the Empire is on the brink of war with Nionia (Japan). Marcus' own close relationship with two ex-slaves can put everything at risk.
My experience with the book & my thoughts: after quite liking Romanitas, this second book of the series virtually fell in my hands on its own; and yet I was afraid it would fall in all the "second novel in a trilogy" pitfalls. I am happy to report that is not the case. Romanitas was complete in itself, and only just left a small window open for the story to continue. Rome Burning starts from that point, but it builds a lot upon it. Actually, I have to say that in most aspects this book was even better than the first one.

What I liked: mostly, I guess that McDougall was less preoccupied with building the alternate world, and focused more on building a complex story/plot and on the character themselves. Also, maybe because they're somewhat older, the characters seem to have grown into themselves and I found it easier to connect with them. At the same time, this book gives more space to themes other than the story itself, especially the slavery issue, which was dealt in an interesting way.
What I didn't like: the only big problem with this book is a typical second book thing: leaving too many things open. Which is especially a pity since the author took so much pain to explain all the previous story again, and to make this book independent enough from the first one. I'll just have to read the third book (as if I needed an excuse!)
Language & writing: I still loved the Latin-based new words made up by the author (although I don't know why helicopters were called volucers in the first book and spiralwings here). Also, some chapter titles were in Latin, love it!
Read this if: again, if you find the premise intriguing. If you started the series, I do recommend to keep reading.
Counts as: Travel with books – Rome; Chunkster Challenge