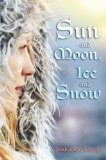 The book: Sun and Moon, Ice and Snow, by Jessica Day George
The edition: Bloomsbury paperback, 330 pages, with Norwegian/Old Norse glossary, bibliography and author's note.
The story: a retelling of an old Norse fairy tale, East of the Sun and West of the Moon, where a young peasant girl is asked to go and live with a polar bear in an enchanted palace for one year.
My experience with the book & my thoughts: I found this book completely by chance. In late 2011 I was looking for books set in Norway and I was looking for fairy tales retellings, and I decided to buy this one even if it was not one of the best recommended options for either group.
And I'm so glad I did, because it may be the best book I read in 2012 so far.
I read it having only a vague notion of the original tale, and it is beautifully built and written. Now that I have read the original story as well, I can see that it's much more than that, because the author developed all those parts that were hidden or not explained in the original, and she did a great job of it.
Bottom line: definitely recommended!
The part with spoilers: if there is one thing I didn't appreciate, is a lacking growth of the protagonist. She is always described as a little girl, and despite the man sleeping in her bed she seems to develop only a strong feeling of friendship towards the inhabitants of the castle — and then all of a sudden she's in love and of an age to get married. But I get that's quite the rule with fairy tales.
Links to better understand this book:
In the author's own words: this comes from the acknowledgments, but I absolutely loved it:
This book was made possible by the letter "ø."
Also the letter "æ."
The first time I saw them, I fell in love and just had to learn the language they belonged to. That language turned out to be Norwegian, with its rich history of folk tales about trolls and polar bears and clever young lads and lasses out to make their fortune. I only hope that I didn't offend my Danish blacksmith forbears by choosing to study Norwegian instead of Danish in college.
Read this if: if you are in any way interested in fairy tale retellings and/or Norse folklore, do try this one
Counts as: Travel with Books project – Norway; What's in a Name Challenge – calendar; Antonym Challenge – "ice" vs. "fire"; fairy tale retellings personal project (Oh how I love when the same book counts for so many things! 🙂 )