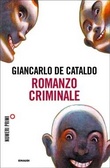 The book: Romanzo Criminale (Crime Novel), by Giancarlo De Cataldo
The edition: Italian (original) edition, as published by Einaudi (softcover), 632 pages
The story: a fictionalized version of the true story of the Banda della Magliana, a criminal gang operating in Rome from the late 1970s to the early 1990s.
My experience with the book & my thoughts: another book that came recommended by husband, which is mostly a good starting point. Otherwise I would never have picked it up, and I'm glad I did.
What I liked: the novel is compelling and easy to read, tells a violent story without being grisly, and most of all makes Italian history and Italian society really come to life.
What I didn't like: some character dynamics. Let me explain: the characters here are mostly gangsters, but still you want to side with them, because well, it's their story and you kind of see their motives; but at the same time it's like the author never really wanted to let you take their side, because well, they're gangsters and he's a judge. It felt… undecided.
Language & writing: I loved — absolutely loved — how well the author was able to capture the Roman voice in dialog. (If you read Italian, see my post on this subject here.)
Links to better understand this book:
Counts as: Reading Round Rome #2