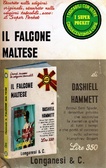 The book: The Maltese Falcon, by Dashiell Hammett
The edition: Italian translation by Marcella Hannau, as published by Longanesi in 1967, 289 pages, with a foreword by Mario Monti
The story: do you really need me to tell you? This is the prototype of all stereotypical detective/hard-boiled crime stories: a solitary private eye with too much charm for his own good, a beautiful (and either very defenseless or very dangerous) woman, a big treasure that you never really know much about, a full galleries of potential villains, and as many twists and turns and guns and brawls as you may ever want.
My experience with the book & my thoughts: how many times have you heard me say that I'm at loss when I have to write a (not really a) review? Well, I am. Because writing something bad about this book is like saying bad things about an old friend.
The old friend being the movie, that prototypical Bogart romp that I remember watching oh so many years ago (and oh so many times, too). Such a good movie it was, that I actually even enjoyed going through the book because of how good the movie was.
But I guess by now we all know I am not a fan of crime stories, much less of hard-boiled crime, and even less of books that read as if they were movies. Of course, at the time this last point was something of a plus, it was the new cinema technique going back and influencing book writing, as Monti so rightly puts it in the preface. And it's not bad per se, it's just that I don't like it: a movie is a movie, a book is a book. (Want an example? Here it is: in a movie you may show only one side of a phone call; doing the same in a book, as Hammett did here several times… not good.)
I'll try and avoid throwing away more time on this kind of book in the future. But I'm glad to have this one as the last.
Language & translation: I read this in an old Italian translation. Crime fiction has long been considered a worthless subgenre in Italy, something that you would never admit to reading, as Monti points out in the preface. And because of that it has always been addled with poor translations and poor editorial choices. All this considered, this translation at least had the grace to age well… and while it still made my eyes roll, I guess that's just my own professional bias, and most people would not notice how bad it is.
Counts as: Back to the classics challenge: Classic crime/thriller