[ETA: if you see this go up twice on your blog, sorry. An incomplete version has been published earlier today]
So. After the few days I took off, and the rest of the week to get back on top of things, I hope to be back on track with my blogging now. And I just want to mention a few things…
Novecento
I read this book during the read-a-thon, but if I wrote a whole post about it, the post would be longer than the book itself. So you get this short thought instead.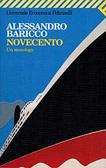 Novecento, by Alessandro Baricco, is the book version of a theater monologue of the same name which inspired the movie The Legend of 1900 (which I haven't seen yet). I read it in Italian (original version, I don't think it is available in English), in the paperback edition published by Feltrinelli.
I think enjoying Baricco is a question of age. You may like his books if you are in your late teens and early tweens. I know I did like them, with all their strange imagery and plenty of symbolism with no real sense behind it. At 20, I read Ocean Sea and felt strong emotions about all the potential readings. Today, I read Novecento and see that all the symbols are just that, symbols, empty symbols transmitting no meaning. I'm all for open interpretation, but this kind of book has nothing to say.
Still, I like his writing, the way the book sounded with voices as if I was hearing the monologue at theater. And I like the imagination, the bare idea of a life lived in the confines of a trans-Atlantic ship, the way one can see the world through other people's eyes, and the wonder at where musical talent, and music itself, come from.
300

This is another book that is too short for a whole post 🙂 especially because I have so little to say about it. 300  by Frank Miller (and Lynn Varley) is a graphic novel about the battle of Thermopylae. I read it in English, original version. I liked the heroic tale: honor, duty. And I completely disliked the graphics — too dark and complicated, I didn't understand much 😦
What is this thing you call book blogging?
As I mentioned earlier, I was a cheerleader during the read-a-thon, and later I participated in some giveaways from the Spooktakular Hop. All the blogs I visited are supposed to be by book bloggers. What puzzles me is this: why are there so many blog with an "adult content warning"? I don't want to be a prude, but I do have a personal rule not to read/watch anything that explicitly states you need to be adult to read/watch it. And really, I find it hard to believe that there are so many book bloggers so dedicated to reading erotica as to need such a warning on their blogs. So I wonder.
Also, what's with all the followers and google connect and whatnot? I do understand that you need stats to show publishers to get free books to review… but really, am I the only book blogger left to blog just for my own sake, and to want to choose my books by myself, not based on the publishing industry trends? Some parts of this world are really being spoonfed by the industry, and they don't even realize it. (*Cynical mode OFF*)
BookMooch anyone?
So I have this pile of books looking for a new home. I've been toying with the idea of signing up for BookMooch for some time, and I had finally gathered the courage to do so. Except: the site is currently down, and I happened to see a lot of bad reviews online. Anyone using it, or can anyone suggest an alternative? (Not bookcrossing, I'm already on that, but it's not what I'm looking for at the moment)