I found a way to recover part of my old blog content, so I decided to rerun some posts from that, mainly reviews of books I liked. The following review was first published in March 2009. (All tagging is new, and I'm afraid I don't have any means of saving the old blog comments.)

***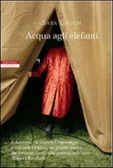 The book: Water for Elefants, by Sara Gruen, in the Italian translation by Ada Arduini
The story: a historical novel set in a circus during the Great Depression. (I guess most people have already read this. The following synopsys is for my two regular readers who — I know that much — have not.) At 23, Jacob Jankowski is a veterinary student when his parents are killed in a road accident, leaving him destitute. He runs off and joins a circus, caring for the animals, rapidly learning about the circus's beauty and brutality. Brutality is embodied in August, the head animal trainer; beauty in Marlena, his wife and the star performer. Jacob falls in love with her — and tells us the story of his love and his efforts to survive and do the right thing.
What I liked: great storytelling! A very good story and strong narrative capabilities make this a good book, one to keep reading at night. I felt very strongly for Jacob, although I didn't completely like him. Instead, I completely adored the way he portrayed the love relation with his wife.
What I didn't like: it seemed to me that the transition from student to adult was too sharp, with Jacob growing up all of a sudden. Plus: does Canada have an age problem, I wonder? Why do all Canadian books have to be told by an elderly narrator? I mean, I understand why the author used this technique of telling the story in a series of flashbacks (because she could thus interrupt tension at near climax moments), but I could do without the interruptions.
Rating: 8.5/10
Read this if: if you like a good love story (and by "good love story" I mean The Betrothed, West Side Story, The Hungry Tide, The Shadow of the Wind… no cheap romance or chick lit).
A favourite quote:
Age is a terrible thief. Just when you're getting the hang of life, it knocks your legs out from under you and stoops your back. It makes you ache and muddies your head and silently spreads cancer throughout your spouse. Metastatic, the doctor said. A matter of weeks or months. But my darling was as frail as a bird. She died nine days later. After sixty-one years together, she simply clutched my hand and exhaled. Although there are times I'd give anything to have her back, I'm glad she went first. Losing her was like being cleft down the middle. It was the moment it all ended for me, and I wouldn't have wanted her to go through that. Being the survivor stinks.
Reasons for reading: it was sort of on my wishlist, but I would never get to it. Then I discovered it would count for the 2nd Canadian challenge, so I rushed out to the library and checked it out. And I am happy I did! Counts as challenge book nr. 4.